Meet the Author - Glenda Young
Introduce Yourself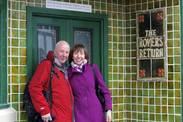 I'm a life-long Coronation Street fan. The show has been a part of my life for as long as I can remember.

I'm editor of the Coronation Street Blog, a fan website which attracts half a million Corrie fans per month. It is the only Coronation Street fan site with exclusive and original content. It has been praised by The Guardian as 'Marvellous' and twice by the Manchester Evening News as 'Excellent' and 'Essential reading for Street fans.' I also run Corrie.net , the first and original Coronation Street fan website to appear on the internet - and it's still going strong! (Scroll to the end for links to blogs, books and more.)
I have twice been commissioned by ITV to update Coronation Street: The Complete Saga with major events from the cobbles from 2003 to 2010.
In 2010 I was commissioned by ITV to write a number of articles for Coronation Street's official 50th anniversary magazine. I also used to write freelance for the now defunct Coronation Street magazine. And I have also written freelance for the official Coronation Street website.
I currently write a Coronation Street monthly update for The Union Jack , the only national USA newspaper for British ex-pats.

I graduated as a (very) mature student in 2001 with First Class (Hons) and a prize for excellence in communication after studying Journalism at the University of Sunderland. During my degree, my personal website, a spoof tabloid paper, was shortlisted for The Guardian Student Media Awards.
While I was studying my journalism degree, I was invited to work in the Coronation Street press office where I worked on the ITV book: Access All Areas: Behind the Scenes at Coronation Street.
My Coronation Street (unofficial) Weekly Updates from 1995 - 2013, 19 years in 19 e-books with all the wit and warmth of Weatherfield, none of the waffle, are available.
I've also published a book of rather wonderfully daft poems called Candy Floss Girl Needed - Apply Within and my novel Triple Whammy - a tale of love, lust and a psychic cat is available too.
My personal blog is Flaming Nora and I'm on twitter @flaming_nora
Describe your book
It's the tender love story of Roy and Hayley Cropper, Coronation Street's most likeable, oddball, couple. It's a personal retelling in a diary format of their 16 year love story on Coronation Street. Their story is told from my own point of view as a Coronation Street fan so I hope readers will forgive me if I've missed out any of their favourite details or recalled some details incorrectly.
When did you first discover you wanted to be a writer?
Ever since I was a child. I've always loved writing.
What is your favourite part of the writing process?
For this book, it was pulling together 16 years worth of my Coronation Street weekly updates to focus on the Roy and Hayley storylines. It brought back some wonderful memories of their storylines.
Hand written or typed?
I always write brief notes while watching Coronation Street and for that, the right kind of notepad and pen are crucial. The pad must be soft leather or cloth bound with unlined paper and no hard spine. Finding the right notepad is a chore, but it's wonderful when I find exactly the one I need.
How did your Coronation Street Blog come about?
I started the Coronation Street Blog in 2007 to write about the fun, irreverent side of the storylines in the soap. The website now has a team of very talented writers and bloggers. I've been writing Coronation Street weekly updates for corrie.net since 1995.
What inspires you?
I love eavesdropping on conversations and inserting snippets of dialogue from real-life into my work. That's why I love Coronation Street so much, the writing and dialogue are superb.
Tea or coffee?
Tea. Proper tea in a proper tea-pot with a proper tea-cosy on it to keep the pot hot.
What is your favourite song?
Kooks by David Bowie.
Do you have a favourite book?
The Handmaid's Tale by Margaret Atwood. I have read it many times and will read it many more, I'm sure.
Is there a book you wished you had written?
The Handmaid's Tale by Margaret Atwood
What next for Glenda Young?
A cup of tea. Proper tea in a proper tea-pot with a proper tea-cosy on it to keep the pot hot.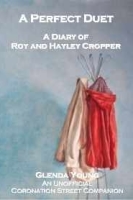 Coronation Street Blog Corrie.net A Perfect Duet on Facebook
Discover Glenda's other books - Glenda Young Books
Follow Glenda on Twitter Glenda's personal blog