Will Hadcroft
Introduce yourself
I am Will Hadcroft, and I've been officially writing and publishing since 2002.
I am the author of the much loved Anne Droyd series for children (there are three adventures currently on release, with a fourth in development), the teen novel The Blueprint, and the acclaimed autobiographical account The Feeling's Unmutual.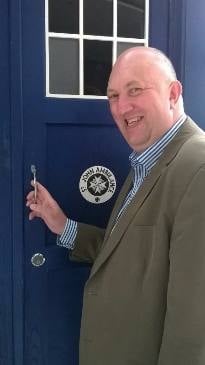 Describe your books
The Anne Droyd series is about three 11 years olds who become guardians to an android school girl. Together they go on adventures and learn about humanity and themselves along the way.
Some people have described it as The Famous Five with a modern twist. Personally, I'd say it is my attempt to capture and distil the novels and television series that I grew up on.
The Blueprint is a surreal story in which 16 year old Liam Creedy finds himself trapped in a nightmare parody of school life. It grew out of a feeling I had when I left school and started my first job, and some observations I had made about the educational system.
I often describe it as a cross between the school soap Grange Hill and the surreal sociological drama The Prisoner. It has struck a nerve with a number of young people, not to mention a few a adults.
The Feeling's Unmutual reveals my lifelong struggle with the traits of what turned out to be Asperger's syndrome. The book was endorsed by Doctor Who actor Colin Baker and Death of Grass and Tripods trilogy author John Christopher, and has helped many people identify the condition either in themselves or in their loved ones.
When did you first discover you wanted to be a writer?
I have always loved writing stories. At age 9, I was one of 100 winners in a competition in Doctor Who Weekly (the forerunner to today's Doctor Who Magazine), and when I saw my name in print, it had the most profound effect.
When I read Terrance Dicks' novelisations of Doctor Who TV scripts (prior to the video and DVD releases), I would imagine my name in the place of Mr Dicks on the cover, on the spine, and inside.
I had always wanted to write and publish things akin to Clive King's Stig of the Dump and John Wyndham's Chocky, both of which were adapted and broadcast by Thames Television in the early 1980s.
That particular dream came true with the Anne Droyd series.
What is your favourite part of the writing process?
Oh, this is a difficult one. I enjoy the initial development of ideas at the synopsis/treatment stage. That can be very exciting, seeing it all form before me. I don't care much for the first draft write up. I find that side of it hard work and a bit of a slog, obsessively tapping away on the computer until it's all out of my head and onto the page. After that it's a pleasure to do the later drafts where I tweak the details.
Of course, opening the parcel that contains the proof copy of the paperback is a special moment, too. There's nothing quite like seeing your work finally realised as a book.
Hand written or typed?
Both. I scribble down ideas when they come to me on bits of paper, but the treatment and the proper write up are all done on computer.
Tea or coffee?
Tea, mostly. But I do like coffee. I'm also occasionally (because it's only occasionally hot in the UK) partial to things like Ribena and Vimto.
What inspires you?
People. Locations. Moral questions. Favourite works in prose and television. Listening to other writers.
What is your favourite song?
Tower of Song by Leonard Cohen. Or First We Take Manhattan by Leonard Cohen. Or the whole of Leonard Cohen Live in London. Or Noise Noise by Gary Numan. Or Dead Sun Rising by Gary Numan. Or, virtually everything released by The Leisure Society.
Is there a book you wished you had written?
Only the ones in my head that are still unrealised.
Do you have a favourite book?
The Tripods trilogy by John Christopher (Yes I know that's three books, but they tell one continuous story).
What next for Will Hadcroft?
Two fully illustrated full colour story books about cats for young children, with a third currently in development. I have a crime novella for adults which should be out by the end of the year. And, Anne Droyd and the Luddite Ransom will be plotted at some point during 2015.
In between all of that, I will be overseeing with Theresa Cutts further releases for FBS.
Books by Will Hadcroft
Click on the image to go directly to the shop page