Lucy Baker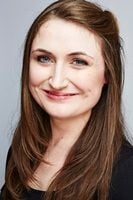 Introduce yourself.
My name is Lucy. I live in rural Buckinghamshire, not far from where I grew up with my parents and three younger sisters.
I have had a fun and varied career so far, having studied Criminology at university, going on to work as a television researcher, and then becoming a primary school teacher. I also work as a tutor, children's sport coach and youth theatre director.
Can you describe your book Rhino Wants a Wife?
Rhino goes on a journey of discovery through the jungle. He has lots of questions for his friends as he tries to find a companion.
I hope people will read my story and find out the rest for themselves!
When did you first discover you wanted to be a writer?
I have always enjoyed writing and have kept all my old notebooks full of stories. As soon as I could write confidently, I wrote captions for my drawings and the story writing developed from there.
It has only been since I started teaching that my love of writing has been reignited.
What is your favourite part of the writing process?
Definitely having the spark of an initial idea that you know will grow. It's an exciting feeling.
Typed or handwritten?
I always hand-write my stories and then type them up to edit and tweak. I have nice tidy 'teacher' handwriting!
What inspires you?
My inspiration can come from all over the place. Things I've seen, people I've met or even poems that I've read that spark of a train of thought.
Tea or coffee?
I'm often told I'm weird because I don't drink either, except the occasional fruit tea. I'd always rather have a juice.
What is your favourite song?
What a tricky one! I love musicals, but I couldn't pinpoint a favourite. In general, I like happy and energizing songs. I love 'Shut Up and Dance with Me' by Walk the Moon.
Do you have a favourite book?
I have lots of childhood favourites, The Water Horse by Dick King-Smith, Allan Ahlberg's Happy Family series, Malory Towers by Enid Blyton and The Thorn Witch by E.J Taylor. I also love Dan Brown, David Nicholls and my absolute favourite, Wodehouse. My favourite classic is Rebecca.
Is there a book you wish you had written?
The Day the Crayons Quit by Drew Daywalt. It is such a funny book that comes from an unexpected point of view. I have used it in class many times to inspire children to write their own versions.
What are you currently working on?
I have a couple of stories just waiting in the wings. Another picture book and a series of early reader chapter books about a cheeky boy called Milo.
What next for Lucy Baker?
More writing, more teaching, more trips to the zoo. I love the zoo.