Tim Bentinck
Introduce Yourself
Tim Bentinck, actor, writer, travel journalist, musician and the voice of David in The Archers since 1982.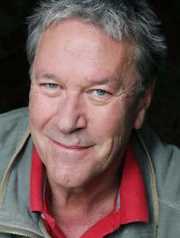 Describe your book Colin the Campervan
When my two boys, Will and Jasper, were small, we had an old campervan that was cold, rusty, slow and unreliable. I loved it, the boys loved itâ€â€Âmy wife, Judy, didn't. We used to dream of having enough money to turn it into a supercar. In 'Colin', that wish comes true.
When did you first discover you wanted to be an author?
When I got my first computer that had a printer - an Amstrad PCW in the late eighties. There was something so exciting about seeing your words in print, rather than scribbled down with crossings-out and ink blots.
Also when you deleted something, it stayed deleted, rather than tempting you to put it back in. I started with plays, where I loved writing dialogue, this lead me to realise how much I loved bringing words and ideas to life.
What is your favourite part of the writing process?
Tweaking until it sounds right.
Hand written or typed?
Typed - see above.
What inspires you?
An empty page that needs filling.
What is your favourite song?
Oh, so many. 'Bohemian Rhapsody' is probably the most extraordinary piece of music in the modern era, but I'd be really hard pressed to whittle it down to ten if I were ever on 'Desert Island Discs'!
Do you have a favourite book?
Yes, Designing and Making Hats and Headpieces by my wife, Judy. I'm so proud of her, it's a great achievement, and she beat me into print!
Judy's book on Amazon.
Is there a book you wish you had written?
Anything by Tom Sharpe.
What is your next book about?
The further adventures of Colin!
What next for Tim Bentinck?
If only I had a crystal ball!
Books by Tim Bentinck
Click on the image to go directly to the shop page