Robin Dimond
Introduce yourself.
Hello! I'm Robin Dimond. I'm relatively new to the world of illustration, although I have been drawing and doodling for most of my life. Especially when I was supposed to be doing something else.
I live in Bristol, with my long time partner Bindy, and our deaf cat Ghost (commonly referred to as Fuzzbutt, or Milord).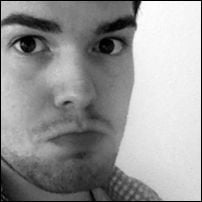 Can you describe your type of art?
I try to make the things I draw emotionally evocative in some way, either with humour, or by trying to be sympathetic to the characters.
I like to be expressive.
When did you first discover you wanted to be an illustrator?
For me it was a very gradual realisation.
I first became aware that drawing was a thing I could do when I was around 7, and had recently moved to a new school. My classmates seemed to like the things I drew, so I used it as a way to make friends.
I basically continued to do this into my twenties. Mostly drawing for the amusement of myself, and my friends.
I've had a huge amount of support from my family and friends, many of whom have encouraged me to pursue illustration. I was very hesitant to the idea for a long time, lacking in confidence. But, when offered the opportunity to illustrate for Lucy Baker's stories, I felt it was too good an opportunity not to accept.
I'm very glad I did.
Tea or coffee?
Coffee! This liquid is responsible for me getting most of my work done.
Black please
What is your favourite part of the creating process?
I really enjoy the process of discovering a character. Working out who they are and exploring ways to express that is, for me, it's the most rewarding part creating anything.
What inspires you?
Story telling. I get excited about characters and situations. The version of a story that plays in your head when you read a good book is a fun thing to share.
Do you have a favourite medium or subject matter?
Characters; animals, monsters, people… the more varied the better!
What is your favourite song?
Difficult question!
I listen to a lot of orchestral music soundtracks from films and video games, especially when I'm working.
Almost anything by Joe Hisaishi is phenomenal: the Spirited Away soundtrack in particular gets to me. But if pushed I'd probably go with Clair de Lune by Debussy.
Do you have a favourite book?
I really love the His Dark Materials trilogy by Philip Pullman, and I consider myself a big Harry Potter fan.
When it comes to children's books, I really like Not Now, Bernard' by David McKee, and Bad Jelly The Witch by Spike Milligan, both of which I found equally terrifying and hilarious as a child.
I also really loved The Water Babies by Charles Kingsley, which I discovered when I found the illustrated version drawn by William Heath Robinson, my great granddad.
Is there a painting you wish you had painted?
'Starry Night Over the Rhone' by Vincent Van Gogh.
What are you currently working on?
I have a couple of other book projects in the works for Lucy Baker!
What next for Robin Dimond?
Hopefully continuing to learn and improve!Illustrating Rhino Wants A Wife has taught me a huge amount and has been an enormously gratifying process.
If I'm lucky I'll get to continue working with wonderful people, on wondrous stories!