Meet the Author - Ian Wheeler
Meet the Author - Ian Wheeler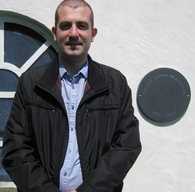 Introduce Yourself
I am a longtime sci-fi and horror fan who enjoys reading, watching films and old cult television and wandering around museums. I am interested in politics and history.
I have been into Doctor Who for many years and began writing for Doctor Who fanzines when I was in my teens.
Describe your book, What's All the Fuss About ...? Doctor Who
We wanted to write a book which would be a nice introduction for people who don't know much about Doctor Who. At the same time, it's crammed with facts which I think longtime fans will enjoy as well and I think everyone will find out something they don't already know.
If you are already a Who fan and want to convert someone else, buy them this book!
When did you first discover you wanted to be a writer?
When I was a child I used to write stories about my cat. She fought in World War Two and all sorts.
In 1989, I had a letter published in the Radio Times about Doctor Who and my journey had begun.
What is your favourite part of the writing process?
The actual process of writing in the early stages can be very laborious and frustrating. It is only when the finished piece starts to take shape and you can go back and change a word here, refine a sentence there, that it starts to become satisfying.
Hand written or typed?
For many years, I struggled writing fanzine articles on an old electric typewriter. A very frustrating process. Now that I have a computer, there's no going back. Everything is done on the computer. If you have the tools, use them.
What inspires you?
The weather, the news, people, what I had for breakfast. Anything and everything can inspire you. Don't wait for inspiration - go and get it.
Tea or coffee?
I'm partial to a nice latte.
What is your favourite song?
Anything by REM.
Do you have a favourite book?
A Christmas Carol by Charles Dickens. I find a lot of his work too long, wordy and gritty but A Christmas Carol is wonderful escapism (albeit very dark in places) and it just seems to sum up Christmas for me. I never tire of watching the various film versions - especially the Muppets!
Is there a book you wished you had written?
The 'Harry Potter' books. I could easily adjust to the multi-millionaire lifestyle.
What next for Ian Wheeler?
I just put one foot in front of the other.