Meet the Author - Debra Lampert-Rudman
Meet the Author – Debra Lampert-Rudman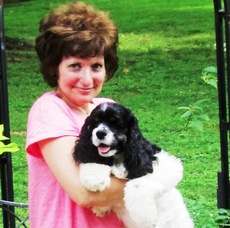 Introduce Yourself
Hi! I'm Debra Lampert-Rudman and live in Pennington, New Jersey across from the banks of the Stony Brook in the US with my husband, Richard, and five American Cocker Spaniels.
I have an M.Ed. in Children's Literature from The Pennsylvania State University and most importantly have loved dogs, and reading and writing dog stories, and drawing and creating dogs in clay, my whole life.
I've written many articles on dogs and dog art and have won several awards for my ceramic dog art. Most recently, my ceramic art and watercolors were featured in a solo show at the renowned William Secord Gallery in NYC.
I also enjoy teaching Ceramics classes, workshops, and summer camp for children through adults - including Girl Scout Brownie Pottery Badge courses and storytelling tile workshops- at the Arts Council of Princeton.
As I said above, I love dogs! For the past 20 years or so I have been very involved in the world of dog shows with my Cocker Spaniels, and am an AKC Breeder of Merit. My boy "Pistal", GCH Dal-Mar's Topaz Pistal, BN, CGC, was #1 parti-color Cocker Spaniel in the US In 2011.
I enjoy doing reading therapy for children in libraries with one of my cockers, Giselle (CH Topaz Kisses in the Rain, CGC) and am very involved in organizing yearly eye clinics in search of a DNA marker for cataracts in canines. I am on the Board and active in a number of dog clubs and volunteer for animal, arts, and other organizations.
Describe your book
Iris the Architect is about an American Cocker Spaniel pup, from a long line of show dog champions, whose Mama wants her to compete in dog shows and become the "Best of her breed".
But, Iris has other ideas and loves drawing dog houses, dog beds, and dog sleds, along with other dog-friendly items.
She secretly draws in all sorts of places while Mama thinks she's practicing for dog shows!
When Iris learns about an opportunity to help homeless dogs, she knows just what they would love "Best" of all.
I think nearly everyone can identify with Iris's dilemma of wanting to please a parent, while at the same time wanting to do what she loves and be herself.
My hope is that readers of all ages find joy in recognizing the importance of "being who you are" and that "Iris the Architect" also helps dog organizations in both the UK and US.
When did you first discover you wanted to be a writer?
I have always loved writing and telling stories.
When I was about 8 years old, I told the children's librarian in my hometown that they needed more books on dogs because I had read them all. So, I began writing and illustrating my own dog and horse stories.
I was also known to write plays for my neighborhood friends to perform in my driveway.
What is your favourite part of the writing process?
That first spark of an idea when anything is possible.
Hand written or typed?
I keep up with my thoughts best on a computer keyboard but keep a notepad nearby to jot down thoughts and sketches.
How did Iris the Architect come about?
There really is an Iris!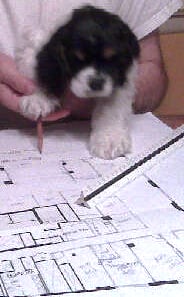 My husband is an architect, and occasionally works on drawings on the kitchen table. When Iris was a pup, she would paw at him until he picked her up on his lap.
Then she would lean over the drawings - like she was studying them!
One night, while "helping" him she latched onto his pencil with her paw; I took a quick photo with my phone, and began brewing a story about a dog who dreamt of being an architect.
Iris the Architect was written, edited, and illustrated over about a 4 year period. Through a very fortuitous meeting on Twitter, Iris found a very special publisher - but that's another story for another day ;-)
Iris the Architect!
What inspires you?
My five cocker spaniels constantly amuse and amaze me & my husband supports my work.
One of my dogs, Gigi (CH Dazlin's Animated Rhythm - Iris's Great Grandma) is 14 years old - deaf and blind with congestive heart failure- and is so inspirational. She never gives up and seems to find joy in something every day. Her tail always wags as she finds her way in, out and around the garden.
Two of my biggest inspirations are no longer with me but are always near in heart and spirit.
Iris's Grandmother Liza (CH DetorNNormandy's Some Girls Do, CGC) was a true sweetheart and can be seen in many pieces of my writing and artwork through the years.
And, my Mom, Rose Lampert - who loved reading, art, writing, and caring for her community and the world around her. My Mom always encouraged my writing and art. She was truly inspirational in so many ways- for one - she started the library in my elementary school (even though she wasn't a trained librarian) and then in her 80's started a library in her senior building (just because she thought they should have one)
Tea or coffee?
Depends on the season - In summer I'm in love with Iced Green Tea Lemonade, sweetened, at Starbucks. In winter, I'm in love with hot chocolate with whipped cream. And, I also love High Tea at New York City's Carlyle Hotel with beautiful china!
In between, here and there, I love decaf coffee with 1/2 milk and 3 sugars.
Since I work from home on my art and writing, having reasons to make regular trips outside for tea, coffee or hot chocolate are essential!
What is your favourite song?
Iris actually has a theme song: "There She Goes" by The La's - it's very much "her" and I have been singing it to her and about her since she was a pup.
I love so many songs and genres depending upon my mood - particularly when I'm writing or working on ceramics or painting, I switch around a lot from Broadway & classic movie tunes, to classic rock, or pop, or country western. It's really hard to pick favourites but Shania Twain's "Today is Your Day" is always inspirational in the morning and "Moondance" by Van Morrison can make the afternoon fly…oh, and anything by James Taylor or The Beach Boys - again, depending upon mood…I could go on…
Do you have a favourite book?
That may be even harder to answer than favourite song! Books are everywhere in my home - many genres from children's books, to non-fiction (lots of dog books and art books and dog art books!), to classics, to contemporary literature and poetry. I love Mary Oliver's poems - particularly her latest book "Dog Songs".
And, I absolutely treasure my collection of Gladys Taber books that live beside my bed, always:
The Book of Stillmeadow, Especially Spaniels (I have two copies and I've read both many times) and Another Path.
My, that's more than one favourite, isn't it? ;-)
Is there a book you wished you had written?
I admire so many authors and author/Illustrators and greatly enjoy falling in love with their work…but those stories are their stories; that's what makes them so amazing and special.
What next for Debra Lampert-Rudman?
Lots!
More "Iris" adventures are afoot and on the drawing board, hopefully for 2015. I'd also like to write a non-fiction book for children on dog artists - there are some amazing stories particularly from 18th century to today!
Opening September, 2014 and running through the end of the year, several of my canine ceramics and watercolors will be exhibited in an exciting art show, "The Dog Show", at the Morris Museum www.morrismuseum.org
A number of ceramic and watercolor canine commissions are in the works including a teapot featuring 4 Cavalier King Charles Spaniels and 2 horses!
More dog magazine articles are planned…and, dog shows! I'm excited about judging the Sporting Group at the Morris & Essex Kennel Club Match Show this fall and competing in obedience with Pistal and Iris at future shows.
Oh, and there may be some other dog news…but Iris will have to tell you about that herself sometime ;-)
Iris the Show Dog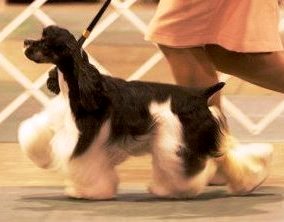 Websites and links:
Iris the Architect on Facebook
Follow Debra on Twitter
Visit Debra's website and Facebook page to see more of her work.