Meet the Author - Alec Price
Meet the Author - Alec Price.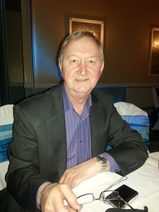 Introduce Yourself
Hello. I am a retired Health & Fitness centre manager. I now spend my time with my family and writing books in a variety of genres.
Describe your new book
My new book, "Mysterious Journey" started off as the prequel to my Trogglybogs series of children's stories, but I feel it may well have a future of its own. It tells the tale of a woman who is suspected of being a witch. She asked to undertake a journey which will take her through some inhospitable countryside. She meets some pretty nasty characters along the way. Without giving too much away, she meets a man, and the two of them are transported back in time to the days of King Arthur and Merlin. They find themselves in great danger, but they have certain powers of their own that help them along the way.
What else have you written?
I have written five books of my own and ghost-written three autobiographies for local business people. One of these was self-published; the other two are still waiting to be published. My own books consist of two Trogglybogs books, a book about jobs within the leisure industry and my very first book, which was "From a Saint to a King" The history of Park Hall at Charnock Richard. I particularly enjoyed doing the research for this book; it is a fascinating story that goes back to the 7th century.
When did you discover you wanted to be a writer?
I have always enjoyed writing stories. As a child I used to write little stories about Bonfire night and the times when the Easter Fair came to town. But as I got older I didn't write anything until I got my first computer at the ripe old age of fifty two. I was so ashamed of my handwriting that I wouldn't even write a note for the milkman, but once I got my computer I realised my writing looked as good as anyone else's and away I went.
What is your favourite part of the writing process?
If I'm honest, it has to be the bit where the final piece of the story slots into place. With fiction, I have never started a story yet where I know how it will end up. I tend to live the story in my mind and tell it as it happens. So far it has worked for me.
With non-fiction, it is the research that I enjoy –same with writing someone's life story. It is a great privilege to be privy to learning the most private and sometimes intimate details of a person's life; I always treat what I am told with the utmost discretion.
Hand written or typed?
Always typed on computer. I only use long hand to make notes.
What inspires you?
I love long walks with my dog. It gives me time alone to think. When I was writing the Trogglybog stories, I spent many a day walking on the local moors–years of days in fact. I tend to let my imagination run riot. Another thing that helps is when people tell me how much they have enjoyed my stories. There is no better fuel to get me going. It makes it all the more worthwhile.
Tea or Coffee?
Tea please, lots of it, no sugar!
What's your favourite song?
I like all sorts of music, but anything from the 1960s or the 1970s will do, especially 1977. It was a very memorable year for me.
Do you have a favourite book?
Any of Ian Rankin's books will do, he is my favourite author … Long live John Rebus.
Is there a book you wished you had written?
There are so many well-crafted books out there, and so many talented writers. I think "The Curious Incident of the Dog in the Night-time" by Mark Haddon is amazingly well written. This book has to rank as one of the best I've read.
What next for Alec Price?
I will continue doing what I've been doing. I like being a ghost-writer, and I also enjoy writing for children. I hope to expand my Trogglybogs series of books. When I started to write them, I had a vision that they might become rather like A A Milne and his Pooh Bear series. All the places in the book are real places – they do exist on and around the moors above Brinscall village, and in the village itself.
Mysterious Journey shop page
Visit Alec's website here.
Join Alec on Facebook here