Coming Soon!
COMING SOON
Our next new title will be
Colin the Campervan by Timothy Bentinck
Pre order now your signed copy now!
Beautifully illustrated by Owen Claxton
Join Colin on his first adventure, from star prize to abandoned and unloved, Colin, a VW Campervan, wants nothing more than to be out on the road. If he can be reunited with his original owner, Andy, it would be even better ...
Tim is best known for playing David Archer in the Radio 4 drama The Archers, this is his first children's book. Preorder your signed copy here. Discover more about Tim here.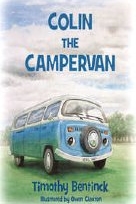 Come along for the ride ...
Published April 4th
Further details of our future titles.
It is just over a year since we proudly launched the first book under the FBS banner, Georgie Jones ... and you thought your family was weird! by Nicky Gregory. Since then we have have been busy discovering new titles and talent. So far this year we have published A Perfect Duet, The Diary of Roy and Hayley. An Unofficial Coronation Street Companion by Glenda Young and Iris the Architect in both hardback and paperback, by Debra Lampert-Rudman.
We are now delighted to announce our forthcoming titles that will be appearing over the next few months.
Next month will see the launch of Mia, Mackey and the Outside Cats, book two in the series by Will Hadcroft. Telling the real life story of his cats and once again illustrated by Owen Claxton's beautiful water colour paintings.
This will be closely followed by Colin the Campervan by Timothy Bentinck. You may know the name, Tim is better known as the voice of David Archer in the long running Radio 4 drama The Archers! This illustrated story tells the story of Colin, a VW Campervan that has a rather amazing adventure. Younger readers and anyone that loves their VW will love this one. Plus more fabulous illustrations by Owen Claxton.
Next we have Mysterious Journey by Alec Price. Alec is the author of the delightful Trogglybogs, set on Brinscall Moor. Mysterious Journey is the prequel to the Trogglybog stories and follows Alice on her journey to return mysterious artefacts to the magician, Merlin. Aimed at 11-13 year olds, this book will also be enjoyed by anyone with a love mythology and a passion for the bleak Lancashire landscape.
Then we take a whole new direction with Fifteen Minutes With You by Julie Hamill. Julie is a lifelong fan of Morrissey and The Smiths, this book follows Julie's popular blog where she has interviewed many famous fans of Morrissey. Discover what makes them tick? What do they love about the man and the music? And what is their favourite crisp flavour? All this plus some great photos of all those interviewed. This is one that is certainly worth waiting for.
Our first adult fiction arrives with Deus Ex Humanus by CP Leigh, reporters, space ships, looking for the Creator and the meaning of life. It's all here. Sci-Fi with a very really twist, if you like your fiction to get you thinking and draw you in, then this is the one to add to your list.
As always, each book will be available to pre order with extras and also be signed by the author. We are looking forward to a busy few months with even more to come in the latter half of 2015. Thanks to everyone for their continued support of FBS, we appreciate it.