Brian Gorman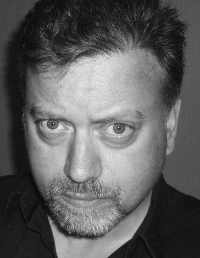 Introduce Yourself
I'm a freelance writer, artist, and occasional actor. Born in Wigan, and now residing in Manchester. I'm also co-producing a 2016 national tour of my play New Dawn Fades: A Play About Joy Division & Manchester
Describe your book Everyman: The Story of Patrick McGoohan - The Prisoner.
'Everyman:The Story Of Patrick McGoohan - The Prisoner' is a biography of the iconic actor, most famous for the 1960s TV series Danger Man and The Prisoner, and the films Dr Syn - The Scarecrow, Ice Station Zebra, Scanners, and Escape From Alcatraz. It is a graphic novel, which I have written and illustrated, detailing how McGoohan's real life experiences led him to create one of the most groundbreaking, surreal, and highly acclaimed television masterpieces. I have adapted it from a one man stage play, which I have performed across the UK since 2010.
When did you first discover you wanted to be an author and graphic artist?
As a very shy kid, growing up in absolute poverty on a Wigan council estate, I found an escape into the world of television, comics, and drawing. I loved the old Spider-Man cartoon series, and my dream job was to draw for Marvel Comics. However, when I left school at 16 and went to the local Careers Office, the young lady behind the desk told me 'There are no cartoonists in Wigan', and I ended up working for a pittance in a greengrocers for 6 years.
I got into amateur and professional theatre and film-making, but have recently returned to my first love - writing and drawing.
What is your favourite part of the writing and drawing process?
Seeing a blank piece of paper transform before my eyes.

Hand drawn or computer generated?
I'm not against computers, but I think there is something truly magical about the hands-on approach. I do scan the original art, and tidy things up a little on the computer. Nothing drastic, just a few minor tweaks.
What inspires you?
The search for truth. People who 'tell it like it is'. Patrick McGoohan championed individuality, and the importance of questioning authority. I love investigating, researching, and looking for the truth. Too many people just accept things as they are, or they follow a leader. Question everything!
Sign up for updates below