Julie Hamill
Introduce Yourself
Hi there, I'm Julie. I'm married, I have two children and a schnoodle. I'm small and Scottish, I have brown hair, and I live in London. I love music. Very nice to meet you.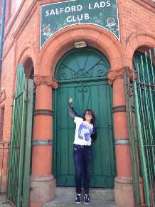 Describe your book

My book is about Morrissey, the singer. Twenty four interviews with collaborators and famous fans of his. The interview tells the reader a bit about the person, a bit about their work or love of Morrissey, and their favourite things. It will suit a Morrissey fan or Smash Hits! aficionado. If you've ever wanted to know what Kevin Cummins' favourite biscuit is, then this is the book for you.
I first heard Morrissey when my sister, Rose Ann, brought a tape home of the first Smiths album. I had never heard anything like him before, nor have I heard anything like him since. I think that the world is unlikely to hear anything like him ever again, so books about him are important. 15 Minutes With You' is really about wanting to get close to Morrissey, but not be a bother; there are many requests for interviews with him every day ... so ... I looked for people who worked with him to interview, in the first instance, then it quickly spread to talking to famous fans, to connect over Morrissey music that we love. It has been fantastic fun. Thanks, Rose Ann.

When did you first discover you wanted to be a writer?
I did a degree with the Open University from 2008-2011. Part of the degree was creative writing. My pieces were scoring high and the Tutor, Tom, told me that I should try to do something, if I could, so I did. Thanks, Tom.

What is your favourite part of the writing process?
I write and write and write, then I type one sentence, and I realise that everything I wrote before it needs to go in the bin. When I find that sentence I know it's started. That's a great feeling.

How did 15 Minutes With You come about?

It started as part of my blog, juliehamill.com. I contacted Mark Nevin (co-writer with Morrissey) on Twitter and asked him for an interview. He said yes, then I started trembling, wondering what to ask. (Be careful what you wish for). As it turned out, Mark was lovely, we stayed in the pub for four hours, and there was a lot of laughter. Thank you, Mark.
From there, one interview quickly turned into another, as each ex-Morrissey-collaborator turned me on to the next. I approached famous fans on Twitter, some politely declined, and many ignored, but the kind ones said yes. My biggest tremble was before meeting Frankie Boyle, but he was as gentle as Jesus, not at all what the press would have me think.

What inspires you?
Other authors, particularly of children's books, which are more difficult to write that one might think. J K Rowling said, 'write for yourself'. This has stuck with me: I know many won't like my writing, or Mr Morrissey, and that's okay, but if I've made myself chuckle here and there, and found out something I really wanted to know, then that's dandy.
The Mozarmy, the Twitter fan club of wonderful, positive Morrissey fans, inspires me every day.

What is your favourite song?
'William It Was Really Nothing' or 'Reel Around The Fountain' by The Smiths Anything by Morrissey, lately, 'Julie In The Weeds' or 'I'm Not A Man''
Absolute Beginners', 'Five Years' or 'Soul Love' by David Bowie
'Embarrassment', 'Bed and Breakfast Man' by Madness
'Say Hello, Wave Goodbye' by Soft Cell
How long have you got?

Hand written or typed?
Typed, like Angela Lansbury in Murder She Wrote. If I don't have my laptop, the Uniball Eye (fine) is the king of pens.

Tea or coffee?
Coffee, soya milk, first thing, then I'm yours.

Do you have a favourite book?
The Lion, The Witch and The Wardrobe by C. S. Lewis or The Subtle Knife by Philip Pullman.

Is there a book you wished you had written?
Clothes, Music, Boys by Viv Albertine.

What next for Julie hamill?
More interviews for a follow up second 15 Minutes book entitled I Wouldn't Say No, then a novel. I'm on chapter eight, you know, but seven chapters might go in the bin. Thanks, FBS.

Books by Julie Hamill
Click on the image to go directly to the shop page